Insights
Intensive cooperation in Indonesia for large-scale modernisation KRI Usman Harun
"During the mid-life modernisation of the KRI Usman Harun, more than 6,000 components will be removed from the frigate, reintegrated or added", says Mark Moene, Naval Engineer at Nevesbu. The Indonesian frigate KRI Usman Harun is a vessel with an extraordinary history. It is twenty years old but has only spent six years in active service with the Indonesian Navy. It is currently undergoing a mid-life overhaul at the PT PAL shipyard in Surabaya. As a specialist in this field, Nevesbu is involved from A to Z: from the initial designs to delivery. The fact that this project is for the Indonesian Navy makes it even more dynamic.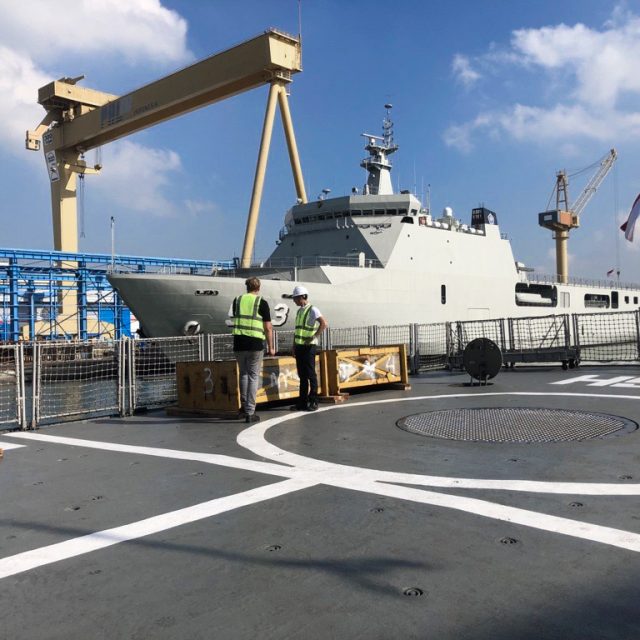 Advanced fleet
To ensure the Indonesian fleet remains one of the most advanced in the region, all mission systems will be replaced with modern advanced systems, almost all supplied by Thales-NL. Nevesbu is performing the complex integration engineering work and will be in Indonesia throughout the construction phase to provide technical advice. Mark is one of the Nevesbu specialists who was involved in the engineering and spent seven weeks in Indonesia advising the shipyard during the implementation activities.
Mark says: "One of the biggest challenges at the beginning of the project was that there was almost no reliable information on the vessel's existing situation. We, therefore, began the project by performing inspections and 3D laser scanning on board. We used the data we collected to make a digital copy of the existing vessel. Without this input, we would not have been able to do our job. The drawings did not always correspond with the onboard situation, as adjustments made to the vessel during its construction and following delivery to the Indonesian Navy were not included in the drawings. For example, there was a silo on board with a pipe running around the outside on the drawing, but in reality, the pipe passed through it. These were unexpected issues that were revealed by the 3D scans and inspections. Fortunately, this pipe did not cause any problems in this instance. But when you fit new systems into an existing situation, you must be aware of such things in advance to eliminate any potential clashes."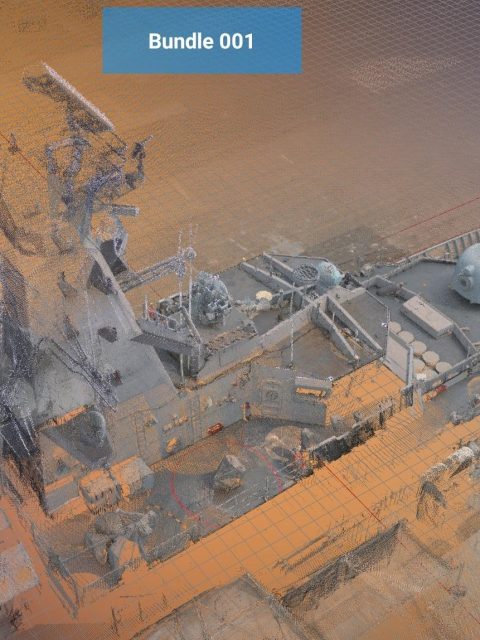 A structured understanding of the vessel
KRI Usman Harun is one of three Bung Tomo class Multi-Role Light Frigates (MRLF). It is the first of the three to be modernised. PT LEN Industri is the prime contractor for the project, and Nevesbu is providing the platform system integration engineering on behalf of PT LEN Industri. "In other words, as the Platform Systems Integrator, it is Nevesbu's job to ensure that the vessel and all its systems perform as intended", says Maurice de Koning, Nevesbu's Project Manager for this project. "Nevesbu has extensive deep-rooted experience and unique expertise in this field. And thanks to our knowledge, we have a structured understanding of the composition of the vessel – where combat systems should be placed, the requirements to which everything must conform, and how all interfaces and technical interfaces should be managed."
Thousands of puzzle pieces
Everything the KRI Usman Harun crew uses daily is undergoing major modifications. For example, the vessel will have a completely new command centre, and all critical mission systems, such as radars, sensors, navigation and communication systems, will be replaced by advanced systems.
Configuration management is crucial to the design process to fit all these systems into the existing vessel. Mark: "To put it bluntly, this involves creating an overview of all the components that make up the entire vessel. Each component has a unique number and is provided with metadata in the overview, indicating where the component is located in the vessel and what needs to happen with it. All components that no longer meet the requirements must be removed from the vessel and replaced with new components. Again, all new components are assigned a unique number with metadata. This will easily amount to 30,000 components. Bringing all of this data together is called configuration management. Based on this, layout drawings, electrical diagrams, stability calculations, etc. can be prepared, and internally we have made decisions with the relevant disciplines about where systems can be optimally positioned."
Working with short lines of communication
Since the summer of 2022, PT PAL's shipyard in Surabaya has been working hard to remove all systems from the vessel. Also, since then, a representative from Nevesbu has been continuously present at the shipyard to provide technical advice. "Carrying out a conversion project like this is very complex. Many different types of activities are performed at the shipyard, from demolition and dismantling to welding, construction and the installation of new software. Nevesbu's strength is that we have vast experience with such complex modernisation projects and can bring this knowledge to the shipyard", says Maurice. "For example, for us, it is second nature to register what is removed and its weight. This was not standard procedure at the yard in Indonesia, so we developed procedures for managing this. It is nice to transfer our knowledge of how we do things according to European standards. By doing this, we are not only ensuring a smooth transition from design to the final product but also providing quality control that reduces the risks for the shipyard. You can't always do everything as specified with such a complex and large-scale renovation project. Sometimes items do not fit, and we have to improvise and figure out a solution on-site. It's a huge puzzle, and if you maintain short lines of communication and work well together, also with Thales NL, then it all works very well."
At present, the engineering works are almost complete. If everything goes according to plan, Usman Harun's conversion will be completed by mid-2024, followed by a series of sea trials to test all the upgraded systems. Nevesbu will remain involved, at least until this point.
Contact
Would you like to know more about this project or Nevesbu's capabilities? Albert will be pleased to tell you more.